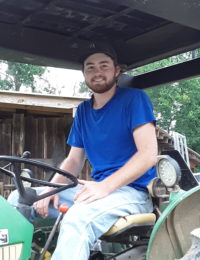 Matthew is originally from Bennett & grew up on his family's cattle & poultry farm. He received his associates degree in Fire Protection Tech & Admin from Davidson Comm college. He recently completed his Fire Certification Program & EMT Certification also. We are in good hands in case of any emergencies!
When not working for Scarlett Mobile or Scarlett Farms he spends time working on the family farm with his own registered & commercial Angus herds. Hes currently an independent rep. for Select Sires Beef.
Matthew is our "go to" guy when anything on the farm or in the practice needs troubleshooting or fixing. There's a reason he's HMIC (Head Man in Charge). Other interests & projects include remodeling a 65 yr old house & preparing surrounding property to graze even more cows!